Texas Garden Materials is a local Houston mulch supplier. It is a direct source of premium bulk mulch. You will find many varieties of mulch types such as black mulch, hardwood mulch, red mulch, pine bark mulch, cedar mulch, playground mulch, and more. All mulch types are available for in-store pickup. Certainly, TGM is open to the public. Moreover, we offer fast mulch delivery to your landscaping projects throughout Houston, Heights, Memorial, Piney Point Village, Bunker Hill, River Oaks, Meyerland, Bellaire, Stafford, Sugar Land, Katy, and Richmond, TX, and surrounding areas. Furthermore, we provide professional mulch installation services.
Mulch Benefits
Enhanced landscape curb appeal.

Mulch conserves moisture in the soil.

Continually breaks down into compost, improving the fertility and health of the soil.

Reduces weed growth

Keeps roots warm in winter and cool in summer
The best time for mulching in Houston is in the early stages of spring or summer, when the temperatures begin to rise. Additionally, the mulch will keep the soil cool and promote new plant growth, flowers, and trees. Fall is also a good time for mulching, keeping soil temperatures warmer, and giving your plants a head start to spring.
Where to buy mulch in Houston?
Indeed, Texas Garden Materials has the best mulch for sale. The location of the Houston TGM Landscape supply store is near the intersection of Old Richmond Rd and Bissonnet. Come by the Houston mulch yard, and the TGM expert team will help you choose the best mulch type for your landscaping project.
Mulch Types Available
At the TGM mulch store in Houston, TX, you will find quality, long-lasting premium mulch. TGM has various selections of bulk mulch types available. Indeed, you will find the best mulch available in Houston, TX. Most notably, the premium mulch is a double shredded mulch made from recycled tree trimmings, hardwood mulch, and organic materials. Below are some of the mulch types available.
Mulch Delivered – Houston, Memorial, Bellaire, Sugar Land, TX, & Surrounding Areas

Texas Garden Materials has the best mulch delivery service in Houston. Indeed, if you need a small or large amount of bulk mulch delivered to your residential or commercial property landscape project, TGM offers a next-day mulch delivery service. Providing fast and professional mulch delivery and installation service to our customers is very important to us. We have a large fleet of small to large mulch delivery trucks.
Residential Houston Mulch Delivered
Mulch delivered to residential homes is also available. Most noteworthy, When delivering mulch in residential homes, we use our smaller mulch dump trailer that allows for easy access to driveways. Next-day home delivery of mulch to Houston, TX residents are available. Mulch is delivered directly to the front yard driveway. Customers may place a tarp on the driveway before we arrive, and we will unload the mulch on the tarp. If you need us to deliver bulk mulch to your home, please contact us, and we will schedule you for delivery.
Commercial Houston Mulch Delivered
Indeed, we can deliver 18-wheeler semi truckloads of mulch to commercial properties. When ordering semi truckloads, there must be access for an 18-wheeler to enter. Also, TGM offers dump-truck loads of mulch delivery service directly to your commercial landscape project site. Customers include landscaping companies, landscapers, contractors, home builders, construction companies, pool companies, HOA communities, Churches, Apartment Complexes, and more.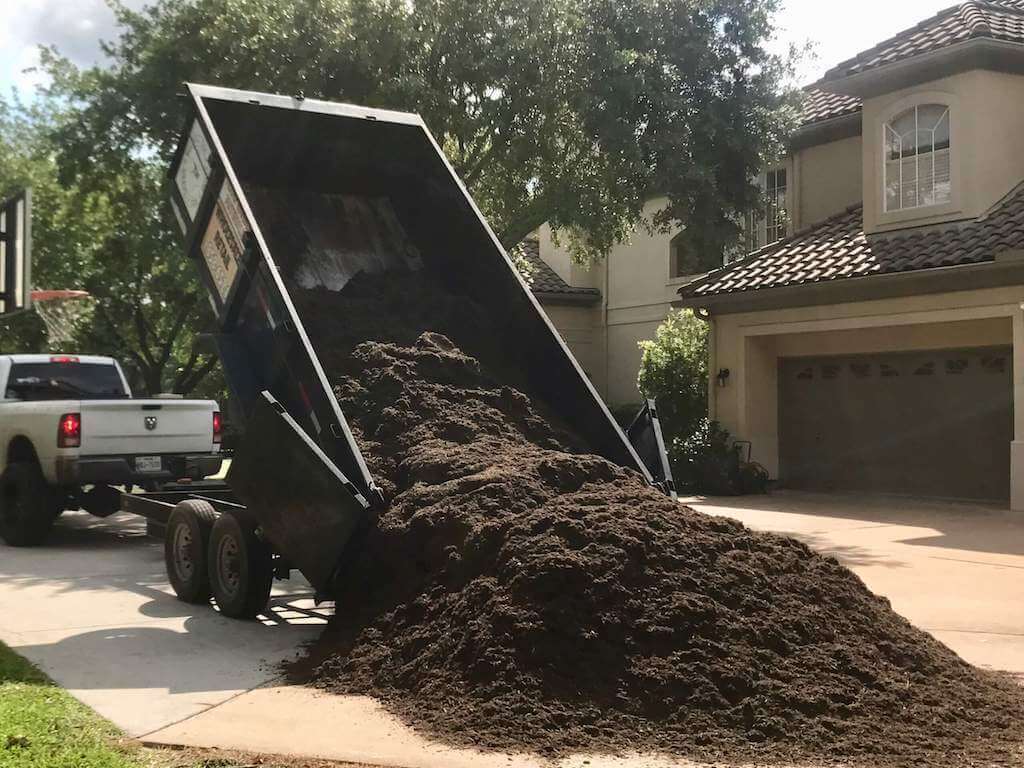 In a bumper pull trailer truckload of mulch, we can deliver ~ 10-12 yards to residential homes. There must be access to a driveway at the time of the delivery. Certainly, TGM will deliver mulch directly to your driveway. Contact us to place an order for mulch delivered to your Houston residential landscape project.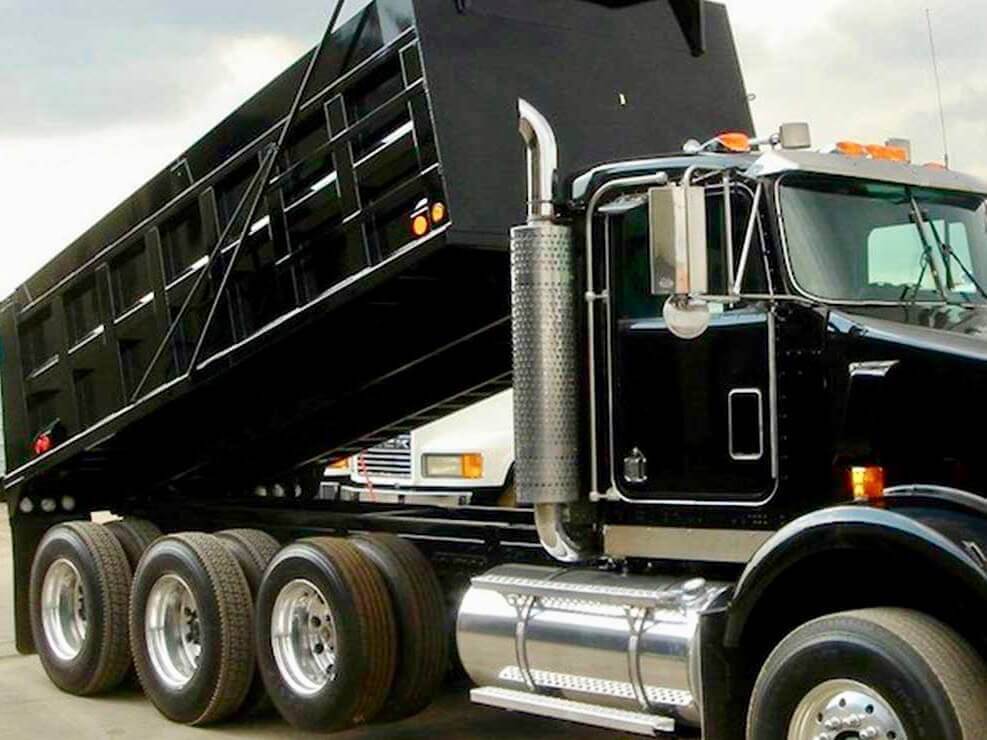 TGM can deliver ~ 12-15 cubic yards of mulch in a dump truck load to Houston commercial properties. There must be access for heavyweight dump truckload at the delivery site where mulch is being delivered. Contact us to have mulch delivered to your Houston landscape project.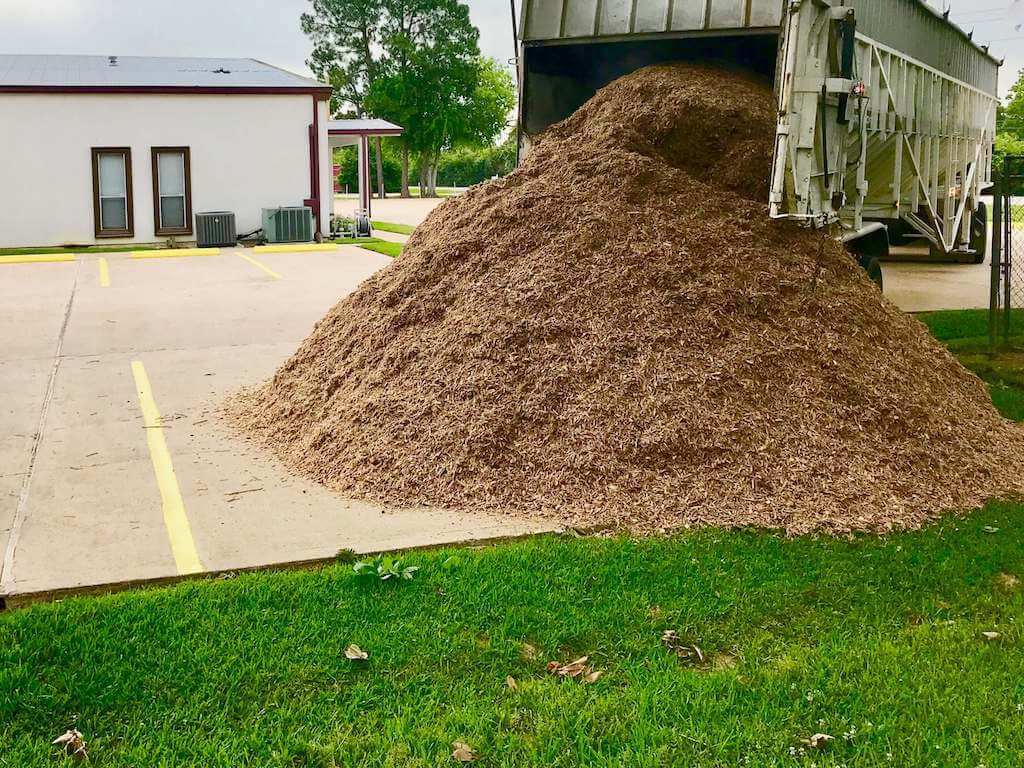 In a Semi 18-wheeler trailer truckload of mulch, we can deliver ~ 65-70 cubic yards of mulch to commercial properties. Additionally, to place a semi truckload of mulch, there must be access to enter due to the large turn radius. Surely, TGM will deliver mulch directly to your Houston landscaping project.
Mulch Installation – Houston, Katy, Sugar Land Area
Residential & Commercial Garden Mulch Installation
Installing mulch to your residential or commercial property will instantly enhance your curb appeal. Indeed, it will make your property landscape look fresh and well maintained. Additionally, TGM premium mulch is made from organic and all-natural wood debris and is kid and pet-friendly. Our team experts offer their expertise to customers who could use our specialized fast, and easy mulch installation service. Our commercial clients include schools, Houston Apartment Management Companies, Commercial businesses, HAO Management Companies, Realtors, Property Management Companies, Restaurants, Shopping centers, and more.
Indeed, the mulch Installation process at Texas Garden Materials is straightforward. First, our team will start by helping you choose the best mulch for your landscape project. Then, after choosing the best mulch for your mulch installation project, our team will help you calculate how many cubic yards of mulch you will need to cover the area. After that, a TGM team member will then schedule an appointment to measure the site where the mulch is needed. Finally, the next step would be to plan your mulch installation service at your earliest convenience. Our team will professionally spread the mulch and apply the mulch evenly 2-3 inches thick. Indeed, the team will clean up any debris left behind when work is after the mulch installation is complete.