Texas Garden Materials is committed to deliver the highest level of attention to your landscape design projects. We serve the commercial and residential market throughout the Houston area such as Richmond, Rosenberg, Sugar Land, Katy, Missouri City, Bellaire, Stafford TX and surrounding areas. Certainly, the expert team is passionate about creating beautiful landscapes that fits your space. Our goal is to transform your landscape design ideas into reality.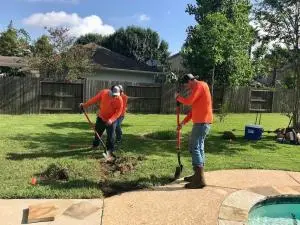 Landscape Design and Consultation Services
At Texas Garden Materials we offer free landscape consultation services. Our team at TGM would love to help you with all your landscaping needs. Below is the process of the TGM landscape design consultation services.
Step 1:
The process begins by speaking over the phone to discuss your desires and preferences. Then we may schedule an appointment to walk through the property and conduct a site analysis.
Step 2:
Furthermore, after discussing your desires in person, we will assist you in picking out the landscape materials needed to complete your project. Most noteworthy, Texas Garden Materials offers quality garden material at lower competitive prices that will meet your budget.
Step 3:
Upon analyzing the landscape design, we will send you an email with the proposal and example pictures. Moreover, If you would like we will meet with you again to present the  estimate. Additionally, we will walk through your property together so you can picture how everything will come together. Once you have accepted the proposal we will schedule the delivery and landscape installation on a date that is most convenient to you.
Finally, we work with our clients every step of the way. The TGM team will help you choose the landscape material, designing, planning, and problem solving to implementation.  Most importantly, we value customer relationships and focus on helping our clients achieve their goals in the most cost-effective way.
Click the button below to contact us about our landscape design services:
Houston, TX – Location
13051 Old Richmond Rd
Houston, TX 77099
Contact us at 832-409-1931
Landscape Design Before & After