Texas Garden Materials sells and installs the best materials for your landscape walkway project. Landscape stone walkway ideas are incorporated to add a striking touch to your landscape. Indeed, numerous walkway options will undoubtedly enhance your property while providing an excellent stepping pathway. Different types of stone walkways come in several colors, shapes, sizes, and textures. Furthermore, the TGM team will most certainly guide you to decide on the best natural walkway option. Most importantly, our team members will do their best to work with your budget, measure the desired traffic flow, and create a unique, beautiful walkway that works.
TGM Stone Walkway – Houston Landscape Supply Store
The TGM Houston landscape supply store has all the landscape supplies needed for your stone walkway project. At TGM, you will find various paving stones, concrete pavers, flagstone pavers, landscaping rocks, sand,  metal edging, commercial grade weed barrier, and other supplies needed for your walkway. Houston TGM Landscape materials are for sale in bulk quantities at the best prices. Above all, TGM offers quality landscape supplies for your home or businesses. Customers may purchase and pick up all the materials with a pickup truck or trailer at the TGM Houston location. Indeed, a team member will help you load all your materials onto your pickup truck or trailer.
Walkway Landscape Supply Delivery – Houston, TX
Also, TGM offers landscape supply delivery for your walkway landscape project. Landscape supply delivery is available throughout Houston, Heights, Memorial, Piney Point Village, Meyerland, Bellaire, Katy, Sugar Land, Richmond, TX, and surrounding areas. Indeed, delivery is available to residential and commercial properties. When delivering to residential homes, we use smaller dump trailers. The delivery drivers unload all the materials on the driveway or a paved area. Most certainly, delivery is available within 1-2 business days. Call us at 832-409-1931 to place an order or inquire by email.
Hardscape Stone Walkway – Houston Landscape Services
Furthermore, TGM offers professional hardscape and landscaping services throughout Houston, Heights, Bellaire, Meyerland, Bunker Hill, Memorial, Piney Point Village, Katy, Sugar Land, Richmond, TX, and surrounding areas. Natural stone walkways instantly upgrade your backyard landscaping and are an excellent solution for side yard muddy areas. Flagstone pavers and concrete pavers are perfect stepping stones in natural landscape walkways. Most noteworthy, the TGM professional team installs beautiful landscaping gravel and stone walkways that you will enjoy.
Call TGM to place an order or schedule an appointment at 832-409-1931. A TGM team member will be happy to help you out.
Landscape Stone Walkway Ideas
Indeed, a flagstone walkway will enhance your outdoor space or garden. Many creative and functional walkway ideas can be incorporated into your yard using different landscaping rocks and stones. Whether you're looking to update your existing walkway or create a whole new path on your property, these walkway ideas will offer inspiration.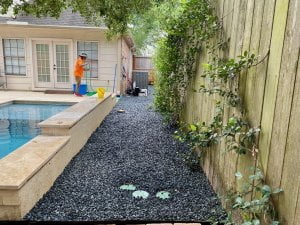 Black Star Gravel Side Yard Stone Walkway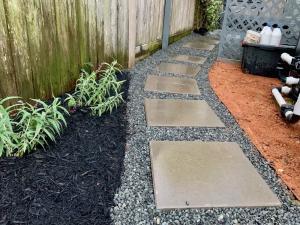 Black Star & Concrete Paver Walkway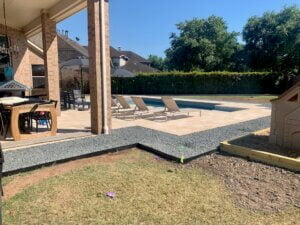 Black Star Gravel Pool Landscape Walkway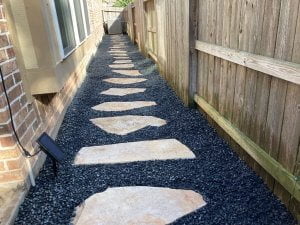 Black Star Gravel Flagstone Walkway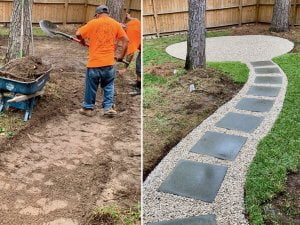 Before and After Gravel Paver Walkway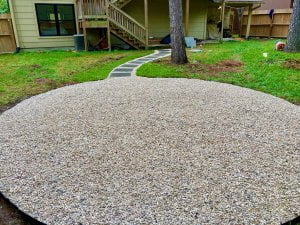 Limestone Gravel Patio Paver Walkway

Paver Stone Walkway Before & After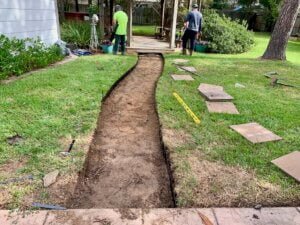 Before Paver Walkway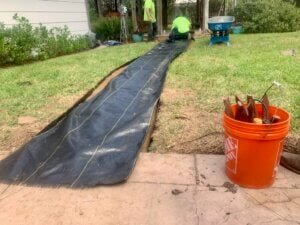 Commmercial Grade Weed Barrier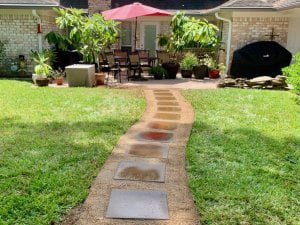 After Paver Walkway
The experienced team at TGM can help you transform and upgrade your property landscape design. TGM has quality landscape supplies for sale at very competitive prices. Most importantly, TGM uses quality materials for all landscaping projects to make any landscape project stand out from the rest.
If you are interested in placing an order or would like to schedule an appointment, contact TGM at 832-409-1931. A TGM team member will be happy to help you out.